About Us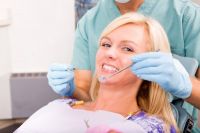 Dr. Adamson's office has been open for almost 40 years. Jeff is the 2nd generation dentist that has carried the legacy of restoring and maintaing healthy smiles to thousands of Utahns. Dr. Adamson has a staff of 6 people, including 2 dental hygenists.
We use state-of-the-art technology and tools, continually updating our resources to ensure we are on the forefront of the industry. Dentistry gets better every year and we want to ensure we provide you with the best care available.
We pride ourselves in having happy, satisfied patients. We strive to cultivate a positive relationship by consulting with you on any procedure required beforehand and answering all your questions as clearly as possible. If you are not one one of our patients please give us a call or stop by our office and we can introduce ourselve in person.